Part 2 of a 3 part story on the Department of Defense and its coming to the realization of its own shortcomings and the realities it faces; and the motivation for those that will not go down swinging.
A
s we continue our buildup to combat the dangers of the War on Terror, somewhere along the way; somebody failed to tell our elected leaders that the defense budget was becoming super sized. Wasn't the Homeland security created to organize our communications and protect us here at home from terrorism?
That budget this year
was 57 Billion.
But the beat goes on and the defense budget keeps increasing. It was President Bush who was once labeled a war monger by many of us (and rightfully so) yet President Obama has not only kept up the same strategies, he has expanded upon them and increased spending along the way. So what exactly is the defense budget and how does it relate to other nations spending?
First, here is a little perspective:
In 2001 (in 2010 inflation adjusted dollars) the base budget (excludes Nuclear and War funding) for Defense was 390 Billion
In 2011 (in 2010 inflation adjusted dollars) the base budget (excludes Nuclear and War funding) for Defense was 540 Billion
That is a 38% increase in 10 years. Again, this isn't including the Nuclear Weapons programs or the wars we are fighting throughout the Middle East. If it seems like a lot; it's because it is. Now the cuts that will take place starting in 2013 are not actually from existing defense… it's from proposed increases. According to Senator Rand Paul of Kentucky:
"This may surprise some people, but there will be no cuts in military spending because we're only cutting proposed increases. If we do nothing, military spending goes up 23% over 10 years. If we [make these cuts], it will still go up 16%."
So, in reality this is just slightly blunting the momentum of the leviathan that is the DOD. The Department and its cozy relationship with Congress and Industry (queue the black and white Eisenhower farewell address) remain warm and fuzzy and most importantly to those three love birds: intact and thriving.
And that I believe is the point. It has to be. How can anyone, given the information and the trends not see defense as a bloated bureaucracy, one that should be first in-line on the chopping block? Our ever expanding Department of Defense is not in an arms race yet their budget and approach clearly says otherwise. Shouldn't we be shaping our military to fight the battles of the 21
st
Century; instead of preparing for an enemy of the twentieth that doesn't exist?
In 2010 we spent almost six times the amount on defense than China does and eleven times more than Russia; yet many if not a majority of our elected leaders refuse to accept the notion of making cuts in defense. To me, it's pretty clear… if we take the 18 nations that spend the most on defense; the US outspends all of her counterparts… ALL 17 of them COMBINED. So cuts are not only logical in our economic situation but they are a necessity; even if we were not drowning in debt.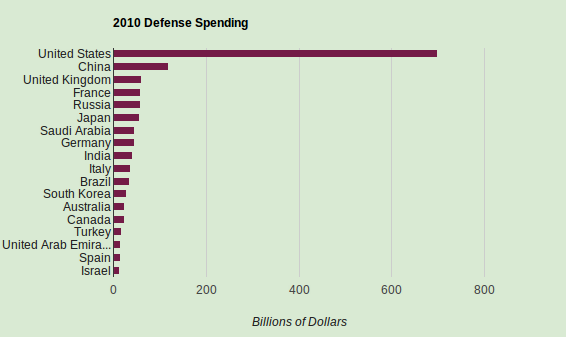 Isn't it a bit silly for us to be even worried about a war with another super power in the first place? The idea of us engaging in war with a China or Russia is almost laughable because of how implausible it is. For one, it would be certain nuclear mutual devastation and then you have the reality of China and the US being so economically intertwined; it would be disruptive to both countries at so many levels.
In fact so much so that even the funding of a sustainable war would be impossible. Most people in this country see China as an economic threat and rightfully so, but it's a threat only because we depend on them so much; as they do us. Our
1/4+ Trillion dollar trade deficit
with a nation has a tendency to create a little codependency.
We are building a military prepared to wage a war not seen since the days of Hitler and we are outspending every nation at astronomical rates. Who is the war on terror about anyway? Stateless organizations whom hide in caves and target random civilians around the globe. Isnt that a threat to all nations? Why do they not allocate the resources that we do?
It just doesn't seem to make sense. To fight such an enemy that is no more dangerous or powerful than a drug cartel using conventional warfare with cold war spending and tactics. How we cannot connect these dots is astounding if it wasn't so downright intellectually offensive.