Its been a rather
hot item this week
. People have been picking apart Mitt Romney's latest budget proposal and it isnt pretty. The lates offering (or borrowing might fit better) of a Romney proposed budget would actually result in equal or larger deficits then we already have under the current administration. I find that odd, considering Romney
has said recently
that it is: "immoral to pass burdens on the next generation like that" meaning deficits and in turn the national debt.
This is the same Mittens who also said how he "can't wait to get my hands on Washington". I had to ask myself; get your hands on it for what? Clearly, by his own admission in his proposed budget, he would actually increase the deficit not shrink it, let alone not balance the budget.
Romney's proposed budget got me thinking... is he seriously supposed to be the candidate with business experience? You can't argue with the wealth he built up. Hell, paying only 13% of your income in taxes can have that effect on a multimillionaire, no? You can't argue with his education background or the fact that he saved the Olympics, so why is it he has a problem balancing a budget?
Surely, he had to do so in his business dealings, haggle with budgets. We know he had to do so as governor, so why is trimming the existing deficit so hard to do, let alone balance our nations budget? The short answer? He wants to appeal to everyone.
That why he is flip-flop Mitt
. Period.
With that said, I want to focus on one particular part of Romney's budget and that is defense. Mittens recently said he would not only not cut defense, he would commission a bump from building
"nine per year to fifteen"
new ships for the Navy as well as new aircraft for the Air Force. Apparently, Mittens was feeling the love from the USS Yorktown and maybe a little patriotic and nostalgic in the World War sense, because he then dropped this bomb saying (as you can see below) he would "add at least 100,000 troops to the boots on the ground capability".
The problem with that is first of all, we are not entering a world war. So where could we use this 100k influx? Iraq? We just withdrew (but
lest
not mention the 15K people left behind to defend the city-like embassy) our combat troops. Afghanistan? It was said two years ago that
Al-Qaeda is 75-100 strong in country.
That was out of the mouth of then CIA director and now Department of Defense chairman Leon Panetta. I'm guessing Panetta has no advantage of actually
underselling
our enemy now does he.
These are also the same terrorists who are "on our side" in the uprising that is taking place in Syria. Hmmm, we are going to be supplying and siding up with terrorists to defeat a nation that we do not like today, but will tomorrow in efforts to stop the terrorists that we now all of a sudden hate who once used to help us.... stop me if I am wrong, but have we not seen this movie before; in Afghanistan no less, circa 1979? Oh, never-mind, this movie is titled the "forever war" (thanks Clearwater) thus we never know how it ends and the perpetual boogy man? He just keeps a comin', he just gets a new face (and accent) every now and then,
ala
Herbert West.
So
, why do we need 100,000 additional troops for? To invade Iran? To combat terrorism? Doesn't seem plausible. Seems like using a sledgehammer to swat flies. I would assume the troop levels we have now are more
than
enough to defend our
nation
but Mitt doesn't agree:
"We all recognize that America needs to economize, but I don't believe that we can economize on securing our nation and protecting our citizens and ensuring that the world remains safe and free for us and for our children,"
In fact, if you compare our spending on defense to the rest of the world as I pointed out in an earlier article this year; it's not even close in how much we outspend the rest of the top 17 nations who spend the most on defense combined.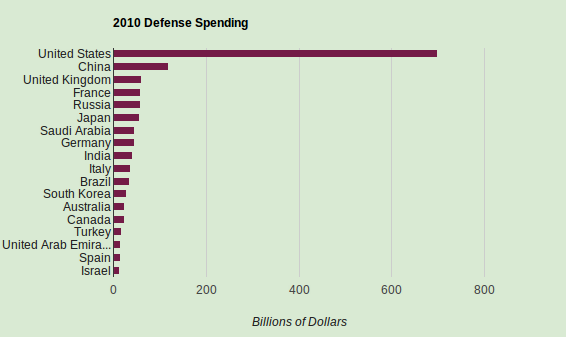 National defense spending has increased 38% since 2001
. This idea that we are going to spend more on defense and drastically increase its scope and sheer size, leads me to the answer to my original question. So why do we need 100,000 additional troops for? And the answer is quite obvious. Just look at Romney's quote when he says:
"ensuring that the world remains safe and free for us"
There it is. And that is the shared mentality from most of Washington not just Romney. Kind of reminds me of the newest Navy slogan "A global force for good". The problem with that? The word "Good" is awfully ambiguous. How "good" are we, if you're an innocent bystander whose lost their life or a loved one(s) in Iraq or Afghanistan. Is that "good" worth a son who was put into a battle field without even a deceleration of war from Congress?
"Good", just like the words "safe" and "free" in Romney's quote are equally indistinct. I thought we already were pretty safe. Apparently, Romney does not agree and that is why he is touting a pretty substantial face lift for the DOD. The phrase "free for us"? How can the world be free for us? Chew on that one, I know i still am.
Which leads me to my final point. Romney is proposing not only an agenda that is completely out of whack compared to what the rest of the world is spending on defense, it is also an agenda that is mathematically infeasible in an environment where we should be embracing austerity measures to live within our means. Here is a recent
quote from of all people
, Valdimir Putin, on the past, current and future US foreign policy outlook:
"the United States, have developed a peculiar interpretation of security that is different from ours. The Americans have become obsessed with the idea of becoming absolutely invulnerable. This utopian concept is unfeasible both technologically and geopolitically, but it is the root of the problem. By definition, absolute invulnerability for one country would in theory require absolute vulnerability for all others"
I know some of you out there are thinking "why do we care what the future President of Russia has to say about us" and I understand that sentiment; however, it's awfully sobering to have the Russians more in line with reality
than a
hopeful for the Presidency of the United States. To be fair, Romney is not alone on the campaign trail in this insanity, and it clear the Oval office shares this paranoia as well.
With that, I leave you with a quote, that in today's Republican Party would be considered a Liberal stance on foreign policy. From the same man who shed the initial light on the Congressional Military Industrial Complex (how apropos), former President, Dwight D. Eisenhower
:
"We will bankrupt ourselves in the vain search for absolute security"