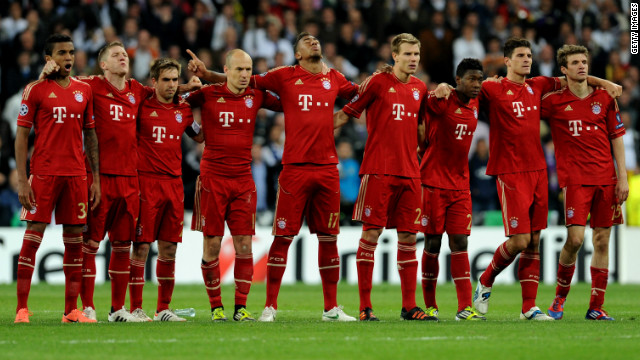 As Bayern Munich plays the second leg of the semifinals of Champions League tommorow (2:45 EST) at Barcelona, the match is much more than just two storied franchises battling it our for European supremacy, at least to me anyway. Because this game paints an ironic tale of two nations of complete opposite fates. So much so, that the only commonality is found on the pitch.
Europe, as a whole is much more socialist than we are here in the states, contrary to what the folks like Bill O'Reilly or Sean Ins'anity might suggest otherwise. With that being said, the degree of socialism in Europe is about as narrow as the O-Man's 2,000 word healthcare bill that still to this remains unread. Germany and Spain mark the extremes of this as both are from opposite ends of the socialism spectrum.
Sure, Germany has its socialist state calling card with its "free" health care, its "free" schooling and higher taxes. There are the laws in place where boards of directors have to contain labor representation. There are also restrictions on what jobs can and can't be outsourced. Nobody is going to confuse Germany with being
Anarcho-Capitalists, that is for certain.
Interestingly enough however, Germany is more US than it is European in terms of production. According to the CIA World Factbook,
Germany
is the second highest exporter in the world behind only
China
. This includes world renowned brand names such as: BMW, Porsche, adidis, Volkswagen, Merck, Siemens, BASF, Allianz, Deutsche, Bayer, Daimler and SAP just to name a few.
Outside of banking, what does
Spain
actually build? Sure BBVA is a gigantic bank but if the world is being funded, floated and sunk in fiat currency its no surprise those nations that rely on bubbles will feel the pain. The nations that produce the most tangible goods are the least affected.
This week,
Spain
's unemployment reached 27%. To say that is staggering would be an understatement.
Germany
meanwhile, has unemployment of around five percent. As far as
Germany
is concerned, there is no recovery. How can you recover from something if there is no illness?
So when Bayern-Munich invades
Barcelona
tommorow afternoon, with its bigger/stronger/faster athletes, the tale of two socialism's will not be lost on me. The German team, actually named for a German company, is an
emerging super-power.

This team represents a nation of innovation, fiscal restraint and a strong work ethic. The Spanish side is team that was the standard of futbol for years on the decline. It also represents a nation where people would rather sip cappuccinos in a café or bistro than work. Much like the expected outcome today on the pitch,
Germany
and their form of socialism wins out. Hard work and innovation always do.